Enhance Your Indoor Air Quality
Rated A+ by the BBB | 24-Hour Emergency Services | Rheem Pro Partner | Free Estimates
It's Time to Improve Your Indoor Air Quailty In North Little Rock AR
If you're suffering from allergies and poor air quality, rely on the professionals at Seaton Heat N Air to effectively improve the air quality in your home, for better breathing for you and your family. 
Our ultraviolet treatment system is installed in your air conditioning system. A UV light promptly destroys particles and germs, while preventing them from being recirculated to the air in your home.
Contact
us today for a FREE estimate!
Kills up to 99% of the bacteria and viruses found on surfaces and in the air.
Reduces sneeze germs by 99% in the time it takes a sneeze to reach three feet.
Diminishes airborne particulates like dust, pollen, allergens, dander, and microbes.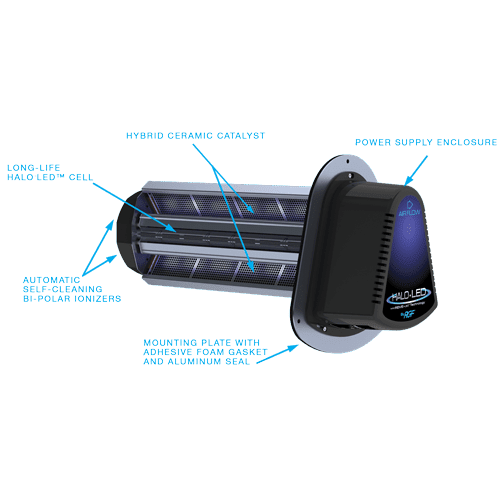 REME HALO by RGF, Air Purification System
The REME HALO by RGF is designed to eliminate sick builfing syndrome risks by neutralizing odors, particulate, air pollutants, VOCs, smoke, mold bacteria and viruses. The REME HALO is easily mounted into air conditioning and heating systems air ducts where most sick building problems start.
When the HVAC system is in operation the REME HALO creates an Advanced Oxidation Plasma consisting of: lonized Hydro-peroxides, Super oxide ions and Hydroxide ions. All are friendly oxidizers. By friendly oxidizers we mean oxidizers that revert back to oxygen and hydrogen after the oxidation of the pollutant. Contact us today for more information.
Whole-House Media Air Cleaner
Our 4″ media air cleaners trap and filter dust, pollen, and other particles traveling through your HVAC systems. They reduce the number of pollutants that are recirculated back into your home. Contact us today for more information.