Air Conditioning and Heating Services In North Little Rock AR
Seaton Heat N' Air offers prompt service to minimize down time and get your family back to the comfort they deserve. Our technicians provide up front pricing so you are never left wondering what the repair will cost. We are here to serve you, 24/7.
A Trusted HVAC Company in North Little Rock, AR
Seaton Heat N' Air in North Little Rock, AR, offers a vast array of HVAC services, including repair, maintenance, installation, and more. Our team of experienced professionals is committed to providing exceptional customer service and quality workmanship at competitive prices.
Efficient Repair Services and Maintenance
When it comes to HVAC repair service in North Little Rock, AR, we have you covered. Our skilled technicians have the expertise and knowledge to diagnose and fix any HVAC issue quickly and efficiently. We understand that a malfunctioning heating or cooling system can be stressful, which is why we strive to provide prompt, reliable service to ensure your comfort and satisfaction.
Regular HVAC maintenance is essential to prolong the life of your system and keep it running efficiently. Our HVAC maintenance service in North Little Rock, AR, includes cleaning, inspection, and tune-up to ensure your system is working correctly and operating at peak performance. Our heating and cooling company offers affordable maintenance plans that can help you save money on costly repairs and reduce energy bills.
Get a New System
As a leading HVAC contractor in North Little Rock, AR, we specialize in HVAC installation service. Whether you need a new system installed in your home or business, our team can help you choose the right system that suits your needs and budget. We work with the best brands and offer competitive pricing and financing options to make the process more affordable.
At Seaton Heat N' Air, we are dedicated to providing quality HVAC services that exceed your expectations, including air conditioning installation and other heating and cooling services. We are a licensed and insured HVAC company, and our team is committed to providing outstanding customer service, honest pricing, and reliable workmanship. Contact us today for all your HVAC needs.
Taking Care of All Your HVAC Needs
Seaton Heat N Air offers prompt HVAC services to its customers. Our technicians provide up-front pricing, so you'll never be left wondering how much the repair will cost. Estimates for new heat and air equipment, as well as ductwork, are always completely free of charge. We would love to sit down with you and discuss whether your system needs a new construction or replacement. 

Air Conditioner Installations and Repairs
Keep your family comfortable this spring with A/C installation and maintenance from Seaton Heat N Air. Rely on our experts for all your air conditioning repairs. Contact us today for a FREE estimate!

Heater Repairs and Maintenance
Get affordable heating system repairs and maintenance at Seaton Heat N Air. We provide prompt services and will get your heater fixed in no time. 
Fill out
 our form to request your service.
Commercial
High-Quality Air Conditioners & Heaters At The Office
You'll get happier employees and a more productive atmosphere with high-quality air conditioners and heaters, that'll keep the entire facility comfortable. Seaton Heat N Air strives to give you the best experience around.
We maintain a great relationship with property management companies and local businesses. Fill out a form to request a commercial HVAC service.
Complete Commercial HVAC Services
Regular filter change
Inspection and cleaning
Heating and air conditioning
Installations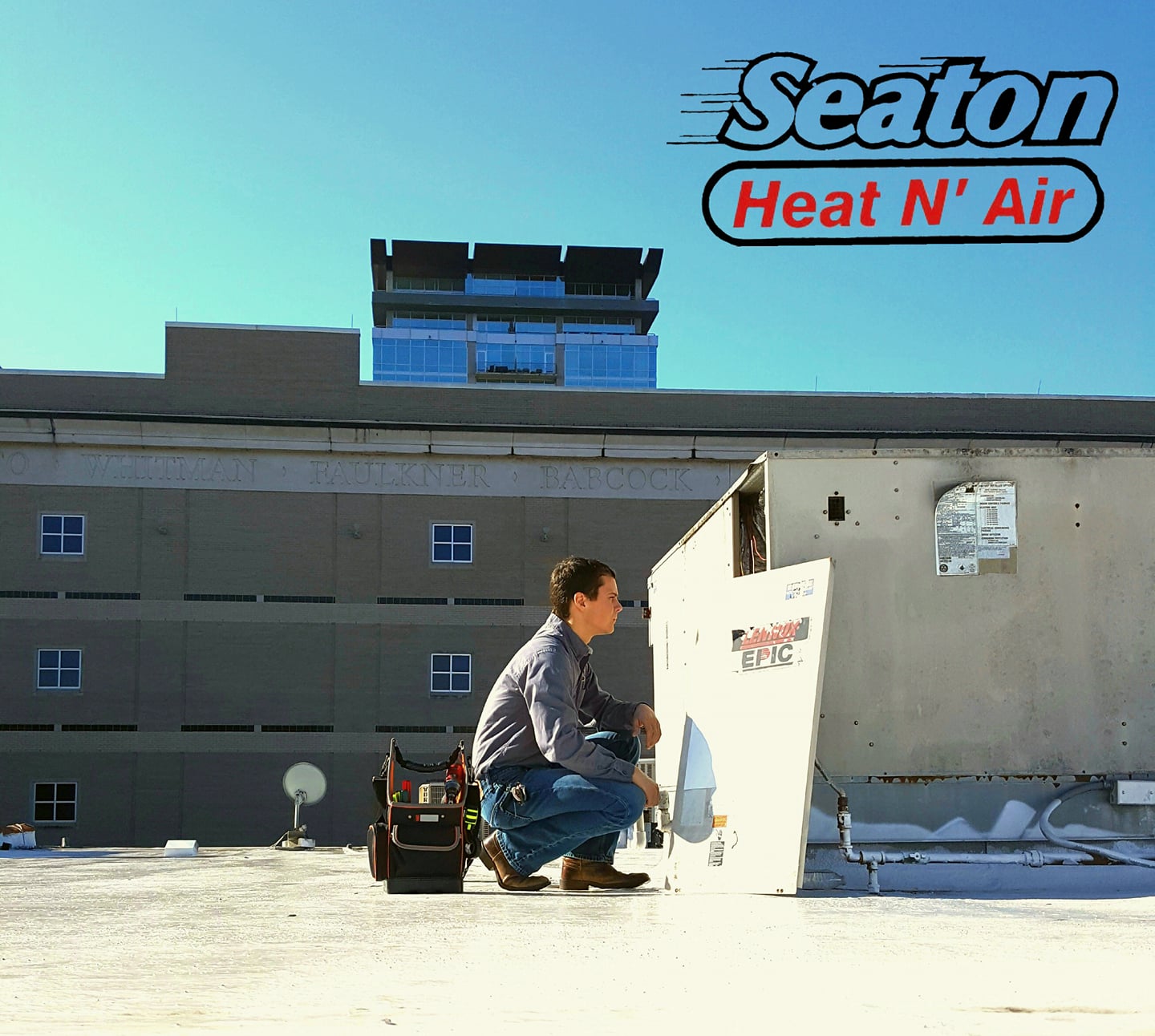 "Great service, great customer service! I highly recommend. True comfort."
– Deb Gore
"The best! They come out quickly and got my ac back to working. Great prices and wonderful people! Will always use them when I need any ac work done."
– TiffanyWellington
"Never had a bad experience with these folks. Great service, reasonable prices, and friendly people. Highly recommend."
– Mark Rydel
"Technician was exactly on time, cleaned up after himself and kept me informed of all he was doing. I highly recommend this company!"
– Susie Storm Lynch